Have mercy, have I found a *smokin'* hot fuckin' new ladyboy site. It's so hot that I am doing to kick off my return by featuring it in the next handful of updates. They have 5 dick tinglin' tranny babes, so we are gonna sit back, take our cocks out, and stroke awhile while we weigh the merits of each ladyboy in question.
At least those are my plans. 😉
The site in question is Ladyboy Gold. Remember that name, because you are gonna wanna see more of what they've got to offer. Guaran-damn-teed.
Okay, we are gonna start this off with my favorite from their site, Ladyboy Amy. She makes me rock out with my cock out, that much is for sure. Take a gander, and see what you think.
Here's what they've got to say about Amy at Ladyboy Gold:
"Petite, sweet and full of attitude, Amy IS Ladyboy perfection. Beautiful blue eyes, gorgeous face and full C cup tits, Amy would fool anyone with her swaying hips and amazing body. Amy likes to take turns being in control in the bedroom. Sometimes dominate, dressed in sexy role playing and amazing vinyl fetish outfits. Other times Amy gets off being a submissive sex slave, wearing only skimpy lingerie. Amy LOVES to be held down and fucked HARD. A vast collection of Amy photo sets and videos awaits you inside. Amy is truly a Ladyboy SUPERSTAR."
I think she lives up to the hype. How 'bout you?
Nothin' finer than a ladyboy in boots.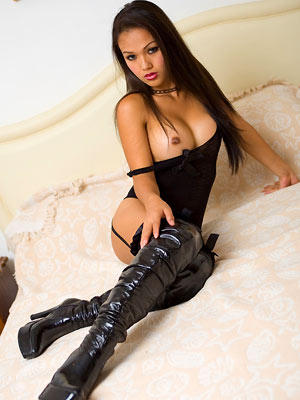 For those of you who like to keep a little love interest in the office, how would you like to have this at your beck and call on company time?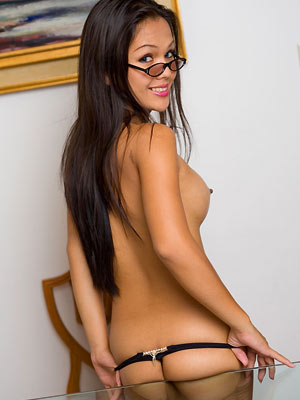 Amy truly looks like the kind of ladyboy that you could take home to mom. If your mom were cool about such thing, that is. Amy also looks like the kind of ladyboy that would be a pure tramp in the bedroom. Which makes her my kinda girl. 😉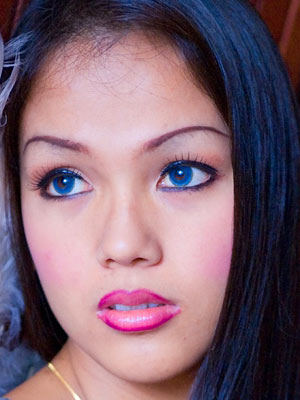 And just when I thought Amy couldn't make my dick any harder, she turned up in latex. Yowsa! Ladyboys in latex do it for me, yes siree.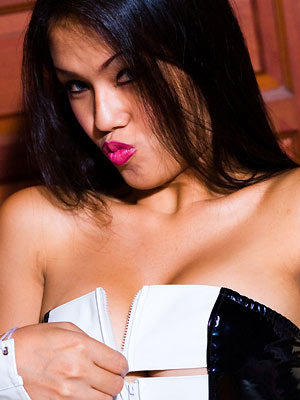 In case any of you were sitting there thinking that I have been fuckin' with y'all…that nothing that looks as good as Amy does could possibly have a cock…well…feast your eyes. A garter belt and a dick is such a winning combination, doncha think?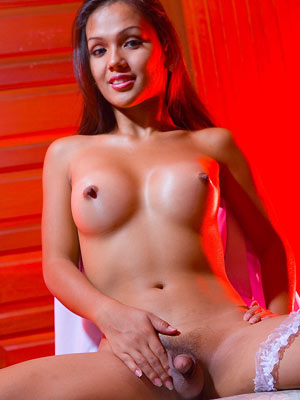 That's it for tonight, but be sure to check back and see the other ladyboys from Ladyboy Gold. Amy isn't the only hottie that they have on hand. If I can remember how to run the fuckin' poll, we'll vote on our favorite. If not, we'll just imagine that we did. 😉
Laters, shemale lovers.