Hola tranny lovers!
Today's pretty little bit of tranny temptation is the latest in our series of new models from Ladyboy Gold.  I don't know what they are using for shemale bait to lure them in, but the crew at LBG has definetly hit the ball out of the park with this new batch of shemale honeys.
Dew is a very passable, and kind of has that perky soccer mom look to her in a couple of pics.  Though I've never seen a soccer mom plow her own ass with a dildo.  It is on my wish list though. 😉
Here is Dew's info from the site:
A cabaret superstar, Dew is a petite alabaster Ladyboy with a perfect pink anus! This good girl gone bad LOVES having her ass fucked hard, gaping and stretching her asshole with every stroke. Dew give pleasure with all her holes, impaling her tranny o-ring on hard cock. Watch as Dew trains her horny asshole with big butt plugs, inserting four fingers before taking BARE cock inside her Kathoey love hole. Ladyboy Gold is the ONLY place to ever see hardcore movies of Dew.
Mmmm, hardcore.  Daddy like the sounds of that.  I'll have to keep my eyes open for Dew taking an ass pounding from a flesh and blood cock.  But for now, let's see how she handles a fake one, shall we?
I'll start by saying that I think Dew wears her lingerie very well.  And her fishnets.  And her high heel shoes.  Shemales and fishnets.  They just go together like peanut butter and jelly.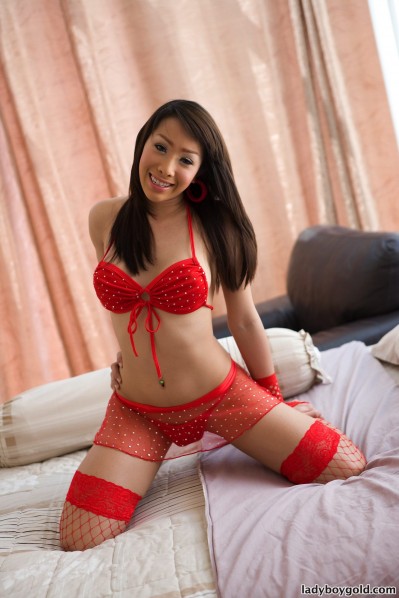 Holy hannah, will you look at that!  Dew has a beautiful asshole.  And it makes my cock whimper out of longing to dive right in.  That may well be the Most Inviting Pose of 2009.
I love the way that she looks in this picture.  You can tell she really is in shemale heat, and needs a good, hard, serious fucking.  I'd be glad to oblige.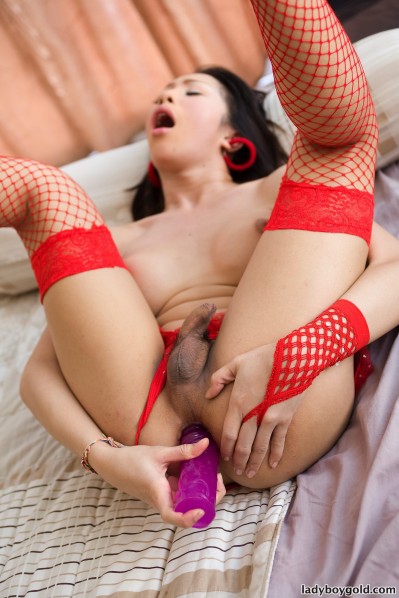 Here's another awesome shot.  I love the arch of her back, and the sheer passion she exudes.  I bet Dew can really give up the shemale pussy.  I'd like to have me some of that.  I most certainly would.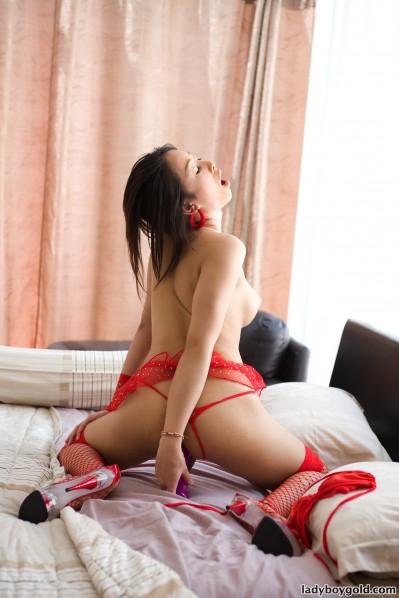 That's some tappable ass right there, boys and girls. 😉
Until next time, shemale aficionados!