I'd be hard pressed to find a prettier ladyboy to kick off this blog.
Som comes to us from one of my favorite shemale sites, LadyBoy Crush.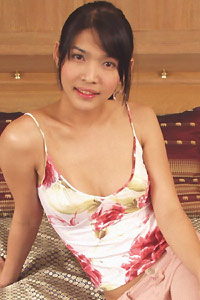 I don't know what it is about her, exactly. For starters, she's got such kissable lips. Look at them long enough, and see if you don't just long to press your own against them. She just looks like a succulent little bit of …I don't know…a ripe cherry waiting to be popped in your mouth.
Her tits are great. They nearly make my mouth water. I love how her nipples look when they are hard. She is one fine tranny!
If all that wasn't enough to make her a keeper, she can not only get her dick hard, but she can blow a huge load too! I love the shots of her laying there with jizz on the planes of her lower belly.
Som is hands down a stunning shemale.