Cream is an appropriate name for this tranny, I think. Because I can work up a big load of cream when I look at her.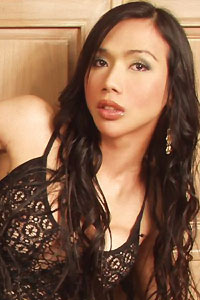 Cream is a featured model on what is rapidly becoming my favorite of all shemale sites, LadyBoy Crush. Any site that updates daily is going to have a fan in me.
Let's take a closer look at Miss Cream, shall we?
Her legs seem to go on forever and a day in the first pic. I think they are long enough to wrap around me twice. Sheer perfection, all the way down to the tips of her painted toes. I love shemales that pay close attention to details like that.
The dress is hot as hell. It practically screams "fuck me, I'm a slut". I dunno if you call that crocheted or what, but I like it.
I'm wild about trannies with long hair, and she's got an abundance of it. Her nipple is just peekin' through it oh-so-sexily like. The only bad thing about her nipples is that they don't have clamps attached to them. When I am elected Lord of The Universe, requisite nipple clamps will be the rule for all females and quasi-females. Especially if they are the kind with the little chain that attaches the two clamps together. Oh yeah!!!
But, I digress. Back to the ladyboy at hand, who is, dismally nipple clampless.
Now we are starting to get somewhere. Both of her lush little titties are exposed, and I'd say they are winners. I'd not turn down the opportunity to titty fuck her, that is for sure. I'd slather some baby oil on those puppies, then make her squish them together so that they fit real snug like around my dick as I thrust back and forth. I'd also make her hold her mouth open, with her tongue stuck out, so that on each inward thrust, the head of my dick would drag over her tongue. Kinda reminds me of the Tootsie Roll thing on how many licks it would take. I don't mind telling you that I don't think I could take many licks before giving Cream a load of cream.
Last shot is a dandy. It's not enough that she is a really pretty ladyboy, but she has a really pretty ladyboy cock to go along with it. The photographer did an awesome job here. I love how the veins stick out in bas relief. It looks like a living sculpture. Matter of fact, I think that sounds like a new occupation for me. Fuck this 8-5 routine. I'll just move to somewhere…France maybe, because it sounds arty…and I'll start sculpting tranny cock. I'll have a big showing of them, and make tons of cash. Sounds like a tough job, don't you think?