This will be short and sweet, because I have been trying to figure out why the category pages were inaccessible all bloody day long. Now that I have gotten that fixed, I only have time to quickly post before I have a dance with the sandman.
Besides that, with more on tap from AsianTS, there are more important things to do that listen to me.
Like look at Ladyboy Mint and her gianormous cock.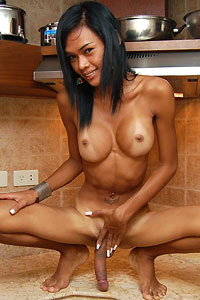 I am not sure who has the longest dick, her or Ladyboy Nancy
Perhaps that will be the subject of our next poll. In a perfect world, we could get them side by side and lay a tape measure to them. Alas, since the world is far less than perfect (or I'd not have spent 2 hours fixing whatever I screwed up here last night) the best we can do is look. Tomorrow I will post a side by side pic of them so we can try to determine.
In the meantime, if you are hungry for more Ladyboy Mint, you can see her at AsianTS