I've got a hunger for some more of Victoria Holyns .
Can you blame me?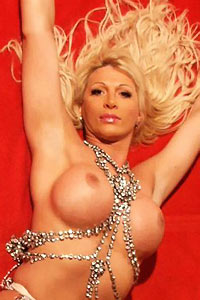 She stiffens my dick, there is no doubt about that. And for those of you who think that a good breeze would stiffen my dick, you are not that far off. But there is a stiff dick, then there is a dick so hard that it feels like your heart is beating in it. A dick so hard that it hurts.
That is what Victoria Holyns does to my cock. She makes it nearly weep for relief.
I would give a good amount of money to be sitting astride her, making her push those firm tranny titties together to make a smooth, tight valley. I'd squeeze a little Astro Glide on her tits to make them nice and slippery. Then I'd slide my cock between those puppies, taking my excruiating sweet time about it. She'd open wide, and stick her tongue out, so that she could mouth the head of my dick as it slid upward through her titties. Now and then, I'd grab a handful of that luxurious blonde hair, crane her neck forward, and send my stroke down her throat.
Then I'd go back to tit fucking her.
Mmmmmmm.
That's it for me. I'm off to her site.