A small housekeeping note before we begin the ritual salviation over Ladyboy Kai. I just waded through about 200 pages of worthless comments made by spammers. I thought about turning comments off, but I don't want to do that, as I want the people who enjoy reading my shemale blog to be able to give me feedback. So I kept them on, and I will try to remember to do the moderation on a regular basis. If you have made a comment that got deleted, my apologies. I must have wiped it out with the spam, but feel free to comment again.
Okay, now on to Ladyboy Kai. Kai is another tantalizing morsel of shemale flesh from Ladyboy Gold. Kai seems to have a yen for sticking things up her ass, and that resulted in a lot of personal pleasure as I looked at her pics and videos on Ladyboy Gold
Kai's bio is nearly enough to make my dick hard. Then again, that doesn't take much, but they sure do make her sound sensual:
"Sexy tan skin and golden blonde hair, horny Kai GETS OFF by sliding HUGE sex toys in and out of her receptive asshole. Kai is a wonton slut that LOVES to dress sexy, dressing in denim mini skirts and foxy fishnet pantyhose. One of the many things that makes Kai special is she has the BIGGEST set of balls you will ever see. She teases and massages them before erupting sweet cum all over herself! Kai will amaze you with her smoldering sexuality and her take-no-prisoners attitude to ass play. Kai has to be seen to be believed."
So let's take a look at a few shots, and see if we are in agreement with them. 😉
She's got some nice cleavage, that much is for sure. I also am diggin' on that braided hair; though I have no idea what you call the style. Most of all, I like that direct, sexually charged look in her eyes.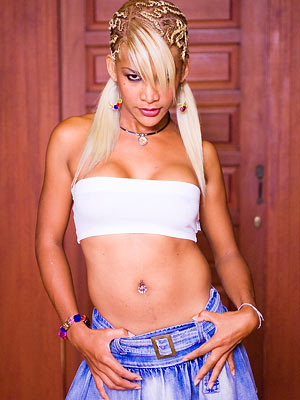 This is a nice shot. I'm always fond of ladyboys in lingerie. If you look at those sheer panties, you can see that they were being straight up about the size of her balls. I don't think I've ever seen a nutsack that huge.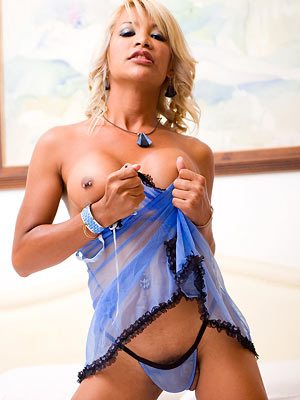 Now, I'm not a fan of the messy-play-in-food type of stuff. But I know that some of you are, and I thought you all might enjoy this shot. I am a fan of some tight tranny ass like Kai has though. Daddy like. Daddy like very much. Daddy would like to bend her over and ram his cock right up her sweet little asshole. Oh yes he would.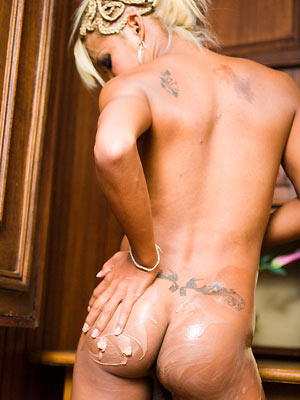 This is a set wher Kai shows off her penchant for toys. I'm all about those mesh gloves, and I'm more about thinking that she needs to be wrapping her lips around my cock instead of a toy.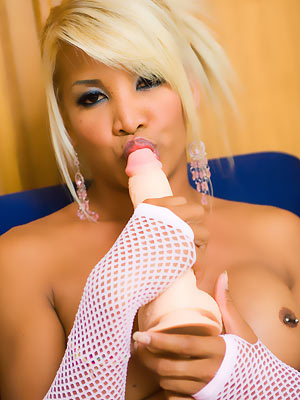 Finally, this pic came from a very hot set where Kai started off in a bathtub full of water and rose petals. As you can see, she got a little horny, and decided that her ass needed some lovin'. I'm glad that she decided so, because it sure is fun to watch.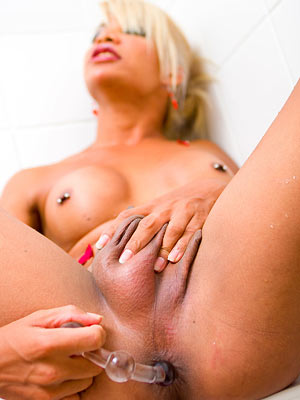 Our next Stunnging Shemales update will be all about Moo. Moo is an innocent faced honey from Ladyboy Gold. We'll find out that Moo only *looks* innocent though. 😉
Laters, shemale lovers.