Hola, tranny lovers! I was bored last night, surfing around, looking for something different to put bring my cock to life. Being as how I am the resourceful type, I was able to find just what I was looking for. Although this isn't a new site, it is new to me, so let's check out what they've got at TS Seduction.
The whole premise of the site seems to be that of straight guys getting tranny cock for the first time. So far so good in my book. 😉 What really drew me in was the mix of that and BDSM. 'Cause Lord knows I like to get my kink on! Some of the sets seem to have more BDSM than others, but one thing is for sure…this is not a site where trannies stand around with their dicks in their hands. TS Seduction is full of hardcore sex scenes…blowjobs galore, and guys gettin' their ass cherries popped all over the place. That's good stuff, boys and girls. Gooooooood stuff.
For the curious and technical amongst us, the tour has a sample movie, as well as giving us information about streaming and downloadable formats. That's all well and good, but nothing normally care about when I have my pants to my ankles and my cock in hand. Let's take a look at an ebony shemale dominatrix in action, shall we?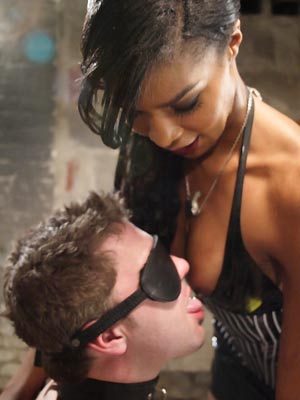 Miss Thing looks like she is packing large and in charge, that much is for sure. Of course, it is kind of hard to tell since she has most of her dick rammed down her submissive's throat.
While I normally tend to lean toward the more dominant side of things, I wouldn't mind being bent over, chained down, and used like that. Nope, don't think I'd mind it at all. 😉 If you wanna see more, there is a 43 minute video of this set inside of TS Seduction. Oh yeah, if you are inside, check out their live show schedule. I can't *wait* for that!