Another year, another 365 days to share our love of shemales. Of course, it is less than that now, since I'm just getting back home and firing up the blogging machine.
You'll notice that I installed another poll plugin. Yay me! As it shows right now, the majority of you just want me to post more, with no preference as to what type of tranny we look at. I'm going to try hard to do weekly posts this year. Maybe then the site can pay it's own hosting bill. 😉 At any rate, keep an eye on the polls, and let me know what you think and want to see.
We ended 2007 by featuring Ladyboy Gold. I truly did not intend to make the first post of 2008 about them, but as they have added 3 new tranny honeys to their stable, I thought it needed to be done.
Let's see what they have to offer, shall we?
Imma start off with my favorite of, and that would be Ladyboy Em. She's got a youngish look to her that makes my cock twitch. According to the site…
Behind Em's sweet shy eyes lies a dirty Ladyboy slut that loves to suck and fuck! Ladyboy Em has natural tits and HUGE hanging balls. Em has to be seen to be believed. As Em fucks and trains her slutty asshole, she loves to cup and caress her sperm filled balls and hard erect cock. Em looks up lovingly as she gives wonderful gagging blowjobs, and loves tasting and swallowing hot sperm. Em's styles range from sweet to sexy, and she finds out what turns her on. Watch as Em's sexy Katoey balls swing and sway as her sphincter is trained for anal pleasure.
Isn't that a great phrase? "As her sphincter is trained for anal pleasure?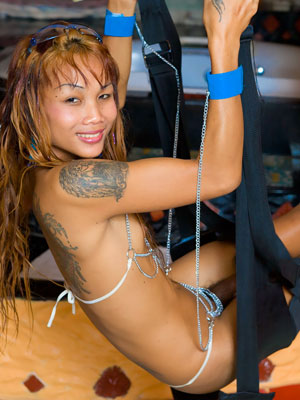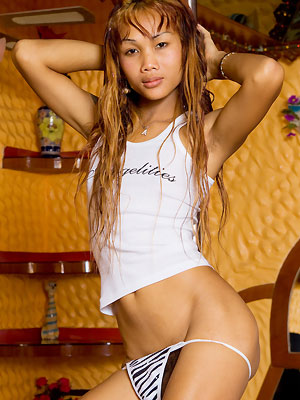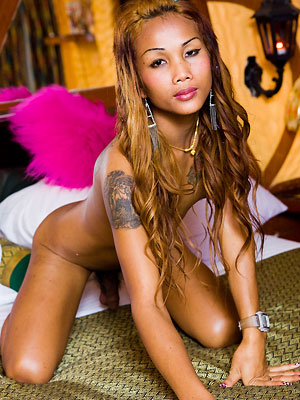 Next up is Noon. Like Ladyboy Lee, she's a teenage tranny, and she's certainly got that wild child look to her.
Noon's bio…
A beautiful face, golden hair and tits to die for, Noon is a wild Kathoey superstar just coming into her prime. Toned, with sexy tattoos, lip piercing and a hard throbbing cock, Noon is always ready to fuck and suck. Her walk is unmistakable, strong and confident with her long hair flowing in the breeze and swaying hips. Noon always has a friendly smile and loves quick fucks. One of Noon's favorite things during sex is to wrap her long legs around as cock pistons in and out of her tight tan asshole. Noon embodies all that is wonderful and magical about Ladyboys.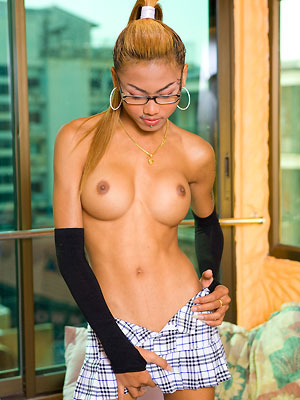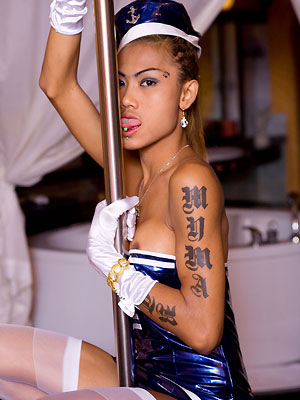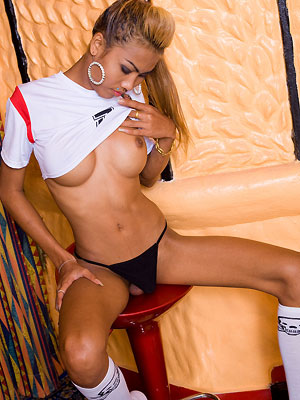 And closing out the new lineup is Paris. Her name is ivocative of the city itself, and of high fashion. Just take a look at the length of her legs…she could certainly be a runway model. How'd you like to have those babies wrapped around you?
Supermodel looks and legs that go on for days, Paris is an amazing specimen. Blue eyes, beautiful tits and a flawless body with no tattoos or piercing, Paris is a rare kathoey. Not to mention her bottomless asshole that loves to be toyed with and stretched! Paris is a statuesque Ladyboy fuck doll that loves being submissive. Paris is definitely on the kinky side, loving enemas and having her asshole stretch and gaped with huge toys. Paris's cock is rock hard with just the thought of being used for pleasure. Come inside to see the amazing videos and photos of this wonderfully dirty supermodel slut.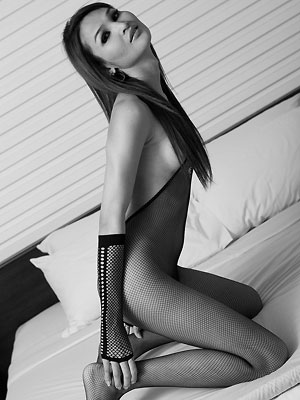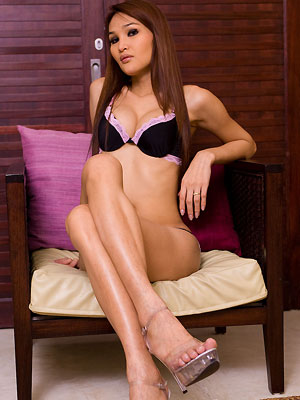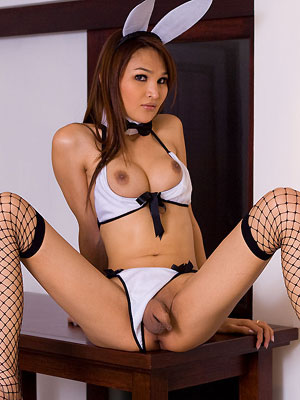 That's all I've got time for today. If you want to see more of these new bits of shemale meat, then head on over and pay the fine folks at Ladyboy Gold a visit.
Until next time, tranny lovers!