Ouch! Y'all fuckers are harsh! According to our poll, as it stands right now, about one third of you think I just need to get my lazy ass in gear and make more posts. When I hit the lottery, I'll retire, and we'll have a never ending stream of shebabes to put a smile in our face, pep in our step, and some life in our trouser mice. Until then, I'll do the best that I can. 😉
I did have one of you write in and tell me that I might as well just call this a ladyboy blog. After looking back, I can see the guy's point. So I'll try to mix it up a little more. I have such a thing for petite shemales, that I forget to bring in a little variety sometimes. And variety, as we all know, is the spice of life!
In that spirit, tonight's stunning shemale is Hot Wendy Williams. Wendy is certainly on the other end of the spectrum from the delicate ladyboys I am so fond of. For starters, she is a voluptuous redhead. No shy posing for this chick, Wendy loves to be on both the giving and receiving ends of fucking. That certainly earns her a gold star from me.
Let's take a little look at one of her sets, shall we?
See what I mean? Wendy's got that statuesque Goddess-like thing going on.
And in a delicious twist, this sheGoddess seems to have had a hungry ass, so she stuffs it full with a toy.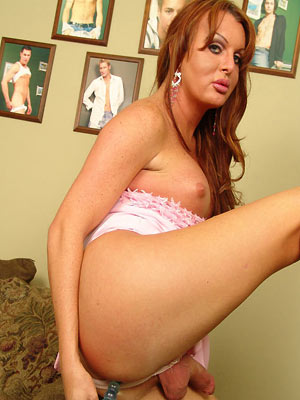 Things heat up when some guy shows up, and Wendy opens wide to take him into her mouth. Her mouth definitely looks like it was made to wrap around a fuckstick.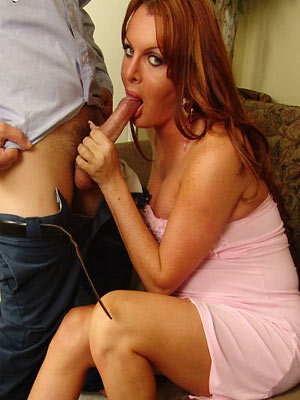 This pic made my dick hard. I can just imagine how it would feel to have her tongue underneath the head of my cock. I'd tell her to drag it real slow up the slit, then to press the tip of her tongue in and wiggle it. Uh huh!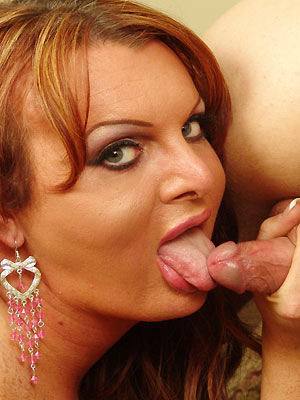 Now, when I look at this picture, I just would bet that she is a loud, wild fuck. I can't imagine her being some timid thing who just lays there and takes it as her ass gets plundered. Nope, I bet Wendy arches her back and offers up that ass and snarls and moans and calls out to Jesus while her asscunt milks away at a cock, and her hips swivel like a figure 8. What do you think?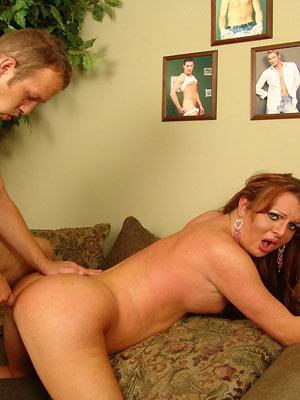 And on that note, I think it is time for my dick and me to head for bed and get re-acquainted with each other. If you want to see more of Wendy, you can get a pass at her official site. I'm hoping to catch one of her cam shows soon.
Until next time, tranny lovers!