Well, she'd be a candidate if I were running a contest called World's Most Beautiful Shemale, that is. Which gives me an idea, but that is a post for next time. Today, let's feast our eyes on Duda's succulent shemale flesh.
Imma tell you…I have serious, serious bone for this chick. I found her at Tranny.com, and did a complete and total double-take when I saw her. Anyone who has spent as much time as I have cruising tranny sites gets to where you can generally spot a tranny in the crowd. But this chick…I mean…fuck…just look at her! I thought for a moment that they had fucked up and put a real chick in the tranny site.
She is shemale perfection.
She is also my future ex-wife, if she'll just have me. 😉
Because I am in lust…er…love with her, here's a few more pictures than normal. And if any of you have any background info on her, either drop me a line, or comment on it here. She looks slightly Brazilian to me, but I am not positive on that.
Without further ado….Duda Little.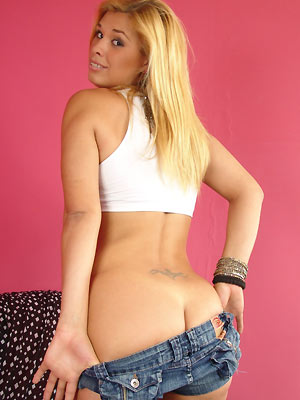 I think that we can all agree that she is the master (mistress?) of the cock tuck! 😉
As mentioned before, Duda is brought to us courtesy of Tranny.com. The site is now offering $1 trial memberships, so you can see more of Duda and other shemale hotties out for 100 pennies. Not a bad deal at all!
Until next time, tranny lovers!