Hola, tranny lovers!
Thought we'd kick start the day with a little bit of hardcore shemale action.  The sight of a blond cock sucking tranny getting ass rode will wake me up better than any cup of coffee ever could. 😉
The blonde in this set looks like she could have been going for the schoolgirl look.  I'd have liked to have seen a few more pics of her prior to nudity, to be absolutely sure.  The fact that I have a shemale schoolgirl fetish doesn't factor into that at all. 😉  At any rate, she wears the plaid skirt pretty well, don't you think?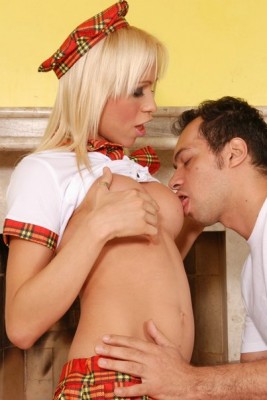 I think she's going to have to open pretty damned wide to get that thick tool in her mouth.  That's also a nice shot of her nipple.  Looks like it is just beggin' to get sucked on.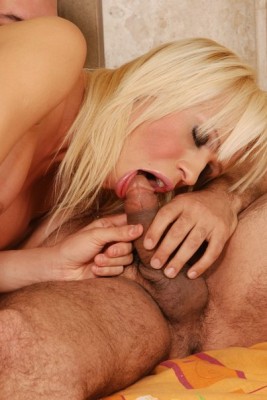 I'd have that facial expression if he was ramming that up my ass too. 😉  Not sure if that is a look of pleasure or pain…what do you think?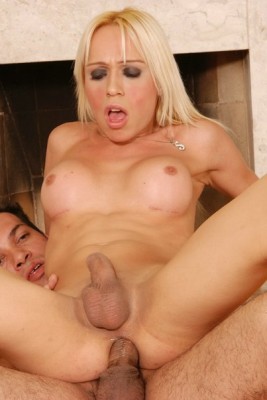 She looks like she is about as full as she can possibly get.  I love the white socks and black heels being visible while she's impaled on that slab of cock.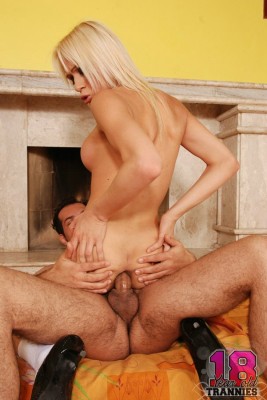 And finally, like the good little teenage tranny whore that she is, she gets a load of babybatter spewed on her face.  That will get my vote over lip gloss any time. 😉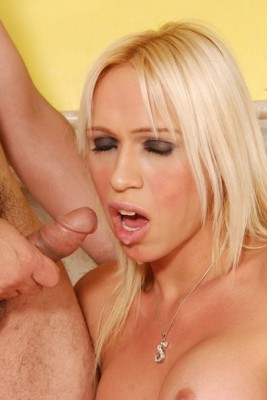 Tune in same bat time, same bat channel for more Stunning Shemales!
Until next time, tranny lovers.