Hola tranny lovers! 🙂
Next stop on tranny worship journey is going to be Shakira Vogel.  If you remember, she was voted as Miss March Stunning Shemale 100 years ago.  Actually, it was a couple of months ago, but a 100 years adds so much more dramatic flair. 😉
Anyhow, before we get to her, we are taking a one-post detour.  It simply had to be done.  I was browsing the archives of Tranny.com, when I stumbled across this he-she honey.  After a pausing to worship her (socially polite way of saying I nutted for her), I decided that she had to be shared.
I have no idea what her name is.  So Imma call her Lacy Lingerie.  I'm probably a good deal older than some of you fuckers, and I can remember MTV in the 80's like it was yesterday.  Anyhow, I think Lacy here looks like a chick out of a rock video.  Probably that one with the girl lolling around on top of the cars in the Whitesnake video.  What do you all think?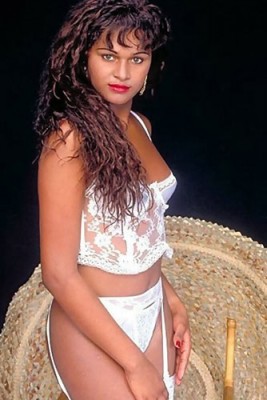 Now for a little nip slip, if you don't mind.  Mmmmm, that looks mighty tasty with all that tanned flesh peeking out of that white lace.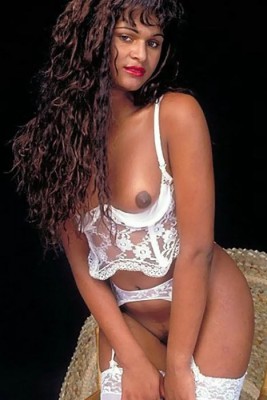 Next up is a good shot of her johnson.  I like the way that it is framed by her white thigh high stockings and their lacy tops.  The heels are nice too.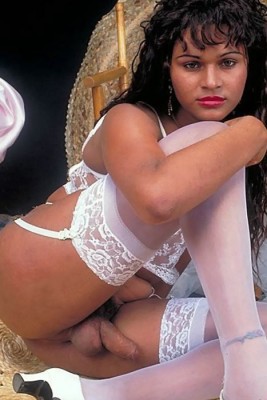 And finally, my favorite picture of the set.  Take a good look at her eyes.  Is that a 'come fuck me' look, or what?  Heavens knows I would be very glad to oblige her.  I want the lingerie and stockings to stay on though.  I want to stroke her cock while I run my free hand up and down her thighs.  Yep, that sounds a plan that I can live with.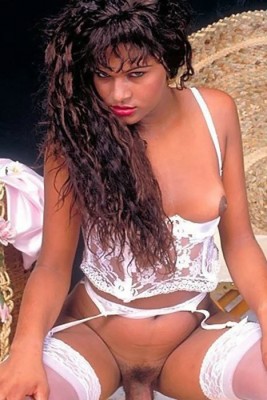 Until next time, shemale aficionados!