Hola, tranny lovers!
This just in from Captain Obvious…a blog re-haul is in progress.  😉  I'll be keeping some old things and adding some new, so stay tuned.
On to the business of the moment…another ladyboy offering from the fine folks at Ladyboy Gold.  This delectable bit of shemale honey is named Karn.  She is 20 years old, and this is the official site blurb about her:
Ladyboy Karn is a beautiful and slender Ladyboy fuckdoll that loves HARDCORE fucking. Smooth skin and natural non-enhanced tits, Karn's cock gets hard as oiled cocks piston in and out of her silky anus. Karn moans and submits to pleasure as her prostate is assaulted by cock, leaking streams of clear sweet precum from her meaty shaft. See Karn dress in fantasy outfits and fucked bareback only on Ladyboy Gold
My hat is off to whoever writes the text for that site.  "as oiled cocks piston in and out of her silky anus"…that's good stuff right there.  Gives us a nice visual without even seeing any pics.
I do have a few of those for you, however.  In this set, we get to play voyer, and watch as Karn is oiling up in the shower.  Perhaps she's had a long day out in the sun, and needs to moisturize.   Or perhaps she's oiling up for what's yet to come.  Either way, she starts off wearing a little black polka dotted bikini. Karn has a nice tummy, don't you think?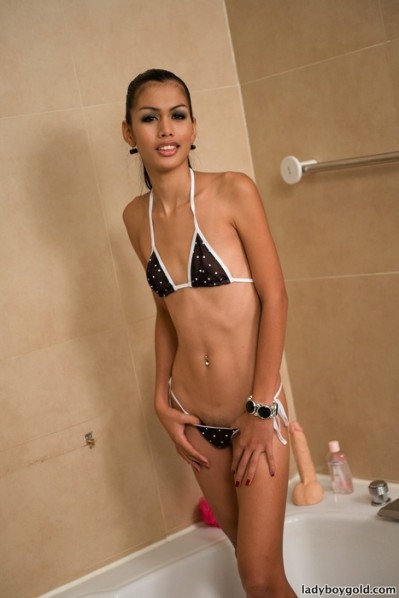 And here we are with Karn's tiny titties on display, and her she-cock as well.  If it were up to me, I'd take a small-to-flat chested shemale over one that has a bad boob job any day of the week.  I'd like to have been there with Karn, I'd enjoy fingerpainting her nipples and waist with that oil.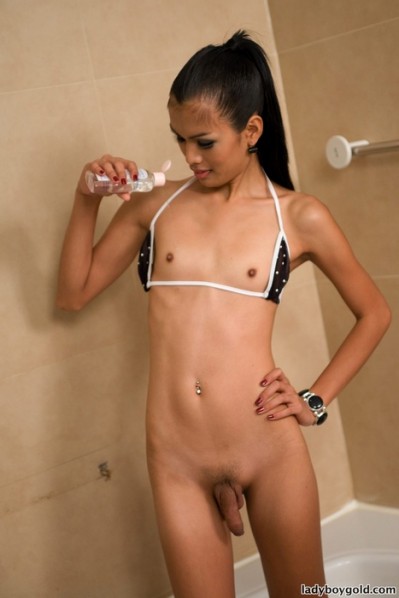 Here's another inviting as fuck shot.  My eyes fixed right on that tight little rosebud asshole of Karn's.  I love the oiled sheen of her flesh, the slight arch of her back, and the way her nails sink into her own assflesh, opening it up, and inviting  us in.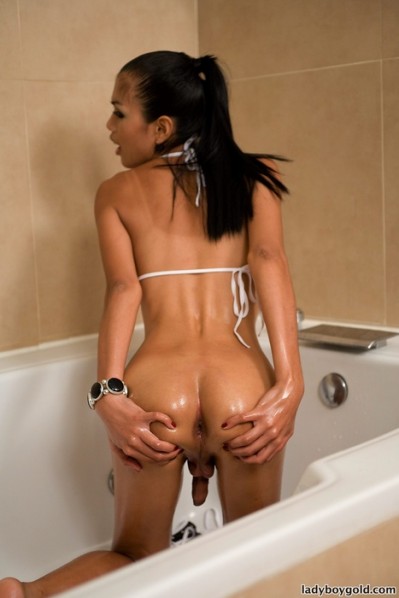 Until next time, shemale aficiandos!