Hola tranny lovers! 🙂
As soon as I laid my eyes on this succulent bit of shemale flesh known as Mandy Mitchell, I knew I was going to have to share her with you all. Mandy comes from the same stable of tranny hotties that bring us Kimber James, TS Jesse, and Kelly Shore. So that alone should tell you that Mandy is definitely fitting to be a Stunning Shemale!
I haven't had time to fully check her out, but if you like passable, slender, brunette shemales, Mandy should be Boner Inducing. Someday, I really need to figure out how to make a Hard Cock Seal of Approval that we could stamp on the chicks with dicks that we like best. In the interim, let's just scope Mandy out, shall we?
I am most certainly digging Mandy's hair in this pic.  I am also pretty fond of both her corset, and the way that her tummy peeks out at us from between the bottom of it and the top of her jeans.  Can we say inciting, boys and girls?  Yes, we can.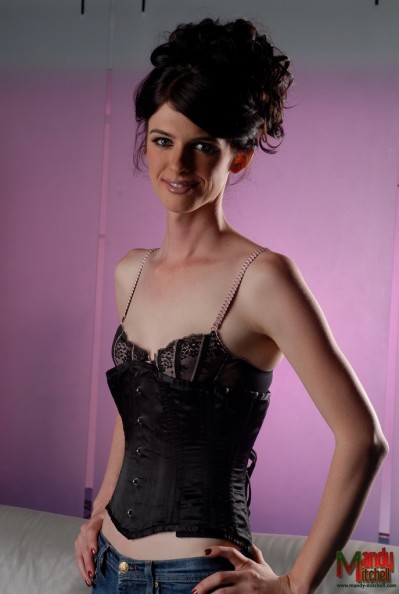 Here Mandy looks very classy and elegant with her small shemale tits covered by a lace bra, and her nipples winking out to bid us good day. Her tummy is totally delicious. I'd lick my own jism off it any day of the week.
She may well have one of the sexiest shemale stomachs ever. And she also has something else. Look what Mandy found in her panties.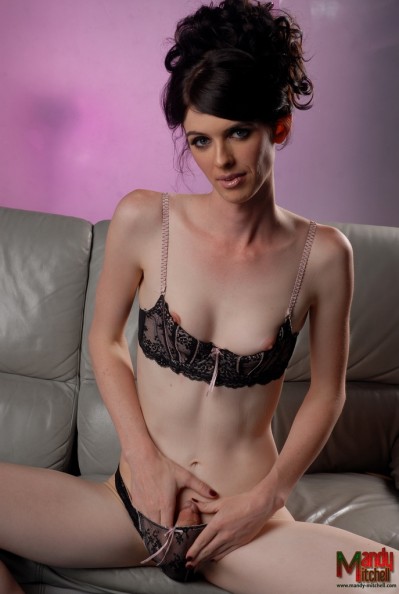 Well, well, that certainly brings the phrase "chubby" to mind, doesn't it?  Mandy's got a lovely cock, and I would love to run my tongue over the pattern of veins in it.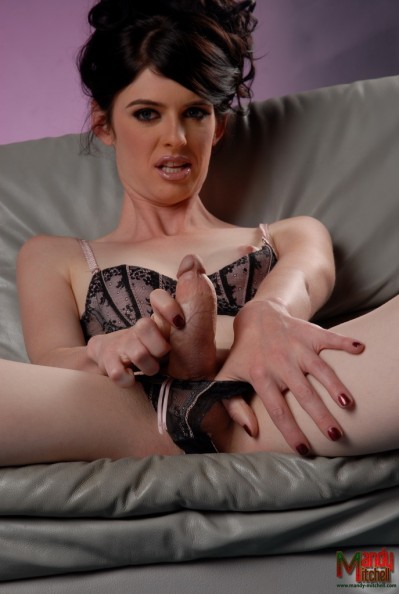 You can see the rest of Mandy's gallery, or visit her at her official site.
Until next time, shemale afficandos!