For those of you who think I'm a slacker and are takin' bets that I will never return to give you your promised Ladyboy Lee update, here's proof that you are wrong. 😉 Well, maybe not entirely wrong, for the slacker blood, it flows strong within my veins. But it rained tonight, and since I can't set off my fireworks, I might as well yank my dick and look at a stunning shemale.
Lee is a fine ass ladyboy teen, and she is featured on Ladyboy Gold. Lee is the the second honey I'm focusing on from that site, so if you weren't enamoured by Ladyboy Amy, then perhaps Lee will trip your trigger.
This is Lee's official bio at Ladyboy Gold.
"A teenage Ladyboy? We could hardly believe it ourselves. Lee is shy and sweet, with natural petite tits and a slender tight body. Lee loves to wear teenage mall clothes and cute outfits, and gets turned on by knowing all the guys are looking at her. But don't let those sweetheart looks fool you. Lee is an insatiable teen Ladyboy who EASILY submits her ass for HARDCORE training. Lee excitedly lowers her head, and raises her PETITE ASS high in the air. Her body tingles in anticipation, waiting for the ass pounding she's about to receive. Lee also loves the taste of cum and being held down and used for pleasure. WOW!"
I've seen the site…and I can pretty much tell you that this is not false advertising. Lee fucks and sucks on the site, and she looks like she enjoys both of the aforementioned activites.
A teenie ladyboy. Uh-huh! Not to mention a teenie ladyboy cheerleader.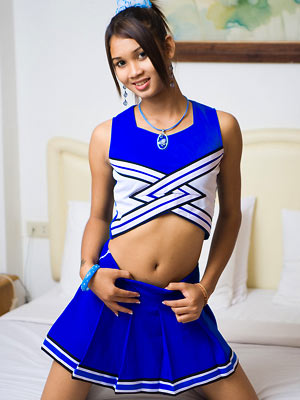 I'd like to follow her around as she sashayed through the mall or something in this micro mini. I'd probably break my fuckin' neck trying to get a good upskirt shot though.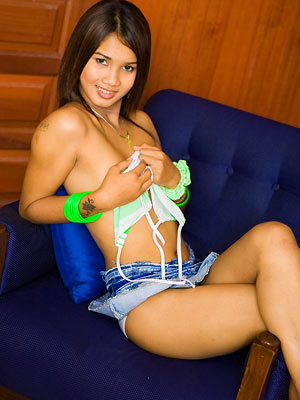 Cock and fishnets. What a combination! Especially when both things are on a tight, fresh, barely legal tranny. Have motherfuckin' mercy.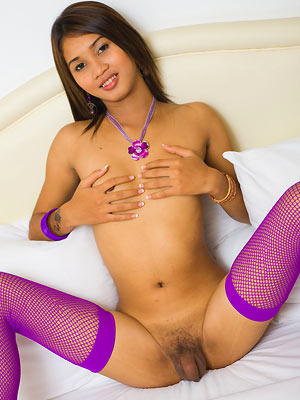 I think it is safe to say that Lee is a very needy ladyboy slut. She seems *very* eager to get that shemalecunt of hers stuffed full of buttplug. I love that in a tranny. I truly do.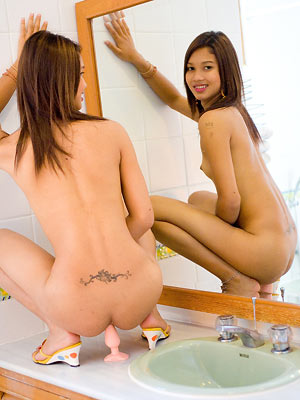 And last but not least, just a shot of her pretty little face. Since Lee is far too young to need any of my special cream for a facial, I think I'd just like to fuck her and stare down at those green eyes while I did it.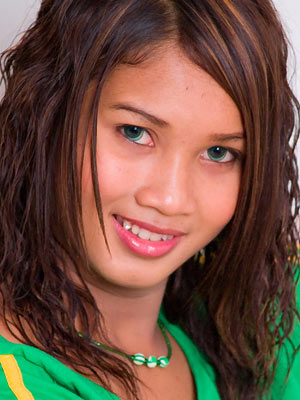 Next update I'm gonna share a little Kai with you. She's also from Ladyboy Gold. Kai has golden hair and buttery satin skin and a kinky side that I so adore.
Laters, shemale lovers.