Hola, tranny lovers!
I don't have a great deal of time tonight, but I did want to take a moment and show you all this new site I found.  I don't think that I've ever seen the theme done, so I figured we should take a peek.
First of all, a little background on the site.  This is what they have to say about themselves:
Shemale Sissification is a unique and exciting new site featuring a mix of shemales, crossdressing and forced feminization. We shoot all the content ourselves and each week we add a new original exclusive episode featuring hi-definition video and pics. You can't get content like this anywhere else on the net.
The update I saw featured Emilly Weickert, who has both an incredible body and a very nice cock.  The storyline of the set is that she catches a peeping tom type, feminizes him, and then fucks him.  Sounds like fun, doncha think?
See what I meant about her having a bangin' hot body?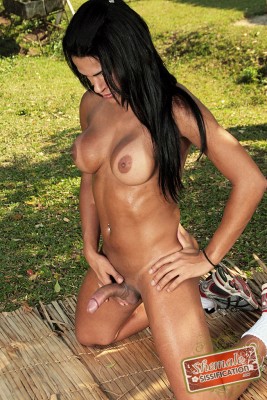 You know, maybe I don't get out enough, but I have never seen any of the chicks at Nordstorm's makeup counter using this technique. If they are allowed to, I want a job there.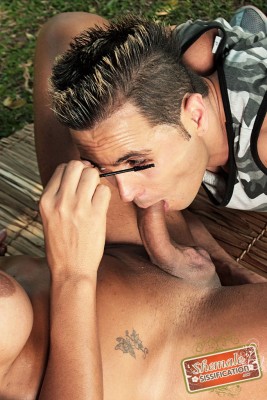 His ass pretty much looks right at home in that silky thong, doesn't it?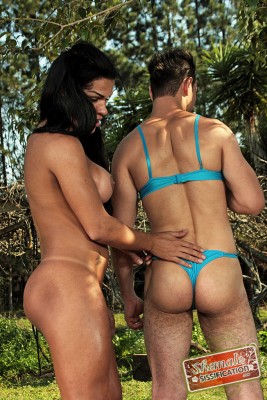 What a good little bitch he makes, all made up, in his bra and panties, getting his ass reamed open.  I only wish it were me. 😉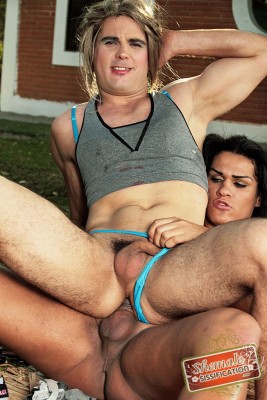 And in case any doubts remain, proving who is alpha in this situation, Emilly splooges all over the sissy to show her dominance.  Yummy stuff, and not just the splooge!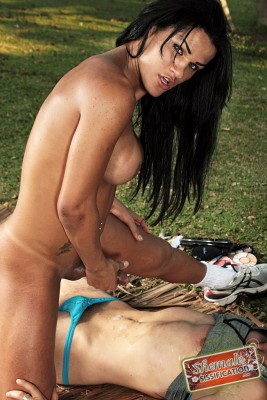 That's it for tonight.  Be sure to get your votes in on the Stunning Shemale Showdown.

Until next time, shemale devotees!