Once again, I am tardy in updating, but they say all work and no play makes you a dull boy, and I am not about being dull. You fuckers won't believe me when I tell you this, but I am gonna tell you anyhow. I've been slow about updating, because for the first time in my life, I have been banging a tranny. True story, and full details in another post. For now, let us carry on with our adoration of the lovelies of Ladyboy Gold. Today's tasty bit of shemale honey is Ladyboy Moo.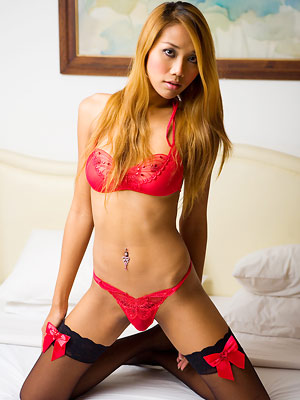 I'm gonna be straight up with you all, the tranny that I have been humpin' doesn't look ANYTHING like Ladyboy Moo. If she did, I'd probably have moved her right in. Love the panties that Moo is wearing; they look all festive, like she's got a present in them.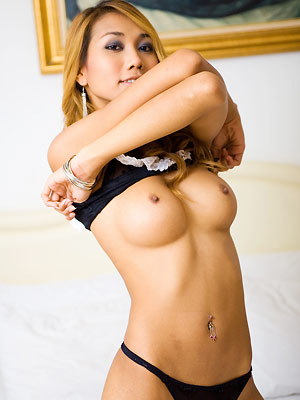 This is what they have to say about Moo at Ladyboy Gold:
Hands down one of the most beautiful and sweet Ladyboys you will ever have the pleasure of seeing. Soft hanging tits, an amazingly gorgeous face and a PERFECT body, Moo IS the Ladyboy you could take home to meet the parents. That is only after you finish using her tight ass and mouth for pleasure. Moo absolutely LOVES to submit during sex and enjoys making her partner cum all over her toned fit body. From HARDCORE blowjobs to deep anal fucking, watch foxy superstar Moo do EVERYTHING inside.
I am not sure about the taking-her-home-to-meet-the-parents part, but the rest of it is dead on.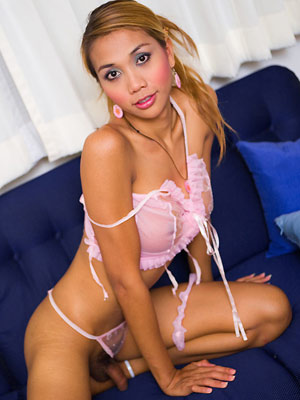 If I ever was blessed by hooking up with Ladyboy Moo, I'd demand that she wore nothing but lingerie. Looks good enough that she should be illegal. I take that back. Latex. I'd have her wear that now and then, along with boots and schoolgirl outfits.
Oh, and fishnets. I about forgot those.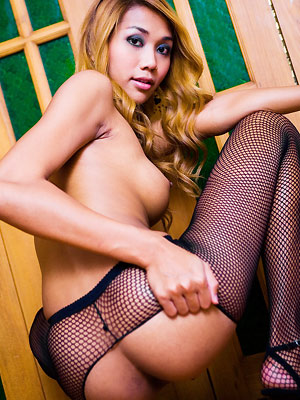 See what a good girl Moo is? She is getting her ass good and ready for us to plunge right in. I bet she is tight enough to milk us bone dry. Whatta you think?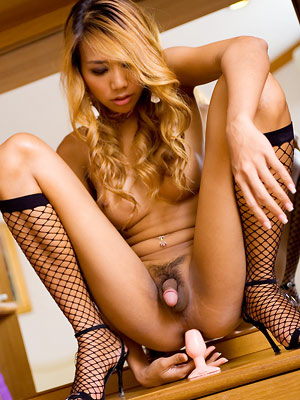 Our final post on the launch of Ladyboy Gold will feature Ladyboy Wawa. The name cracks me up; the ladyboy in question gives me a boner.
Check back, so you can see if she has the same effect on you!