Hola tranny lovers!
It's been a long day, so we're just going to do a quickie tonight. After all, quickies most certainly have a time and a place. And this is the time and place. 😉
This is a little clip courtesy of Ladyboy Crush.  I've been hanging out there for so long that the site kind of seems like an old friend.
And speaking of such a thing, Ladyboy Natti certainkly seems like she's well acquainted with cawwwwwwk.  The clip is some nice POV action, and I like the beginning where she looks up while she's bathing his shaft with her tongue.
Hell, I like the whole thing, who am I kidding? 😉  Gave me wood to watch her bobbing up and down on his tool.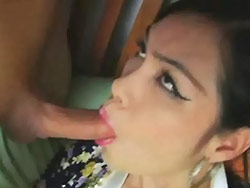 \
That's all for now, boys and girls.  Our Stunning Shemale Showdown will be ending soon, so get your votes in.
Until next time…