I see that you all are being shy about making your nominations for Miss Stunning Shemale of February.  You need to get busy, or I'm going to pick one, and you may not like who I pick. 😀
Here's post number 4 of the 5 promised featuring the ever-lovely Asian shemale known to most of us as Amy.  Tonight's set and accompanying gallery, brought to us courtesy of Ladyboy69,  is another shoot that is prior to her getting her boob job.  I really think that I prefer her this way, though you all may disagree with me.  Obviously she decided that she needed them, and in the long run, it's about her being happy with herself.  She looks fuckin' awesome either way.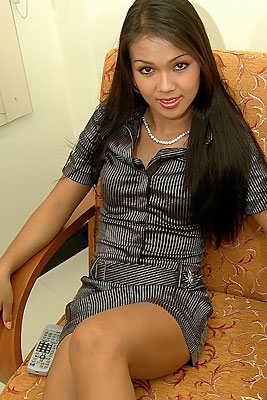 Amy looks so incredibly small and doll-like in this pic.  I guess it's probably just the Asian thing, but it looks like she's no bigger than a minute, with a waist so tiny you could span it with your hands.  As always, her shemale legs suck me right in for a double, then triple and quadruple look while I drool on myself.  I'm also digging her feet in this pic, though it is probably more the shoes.  Her keeping them on while I fucked her would be a requirement.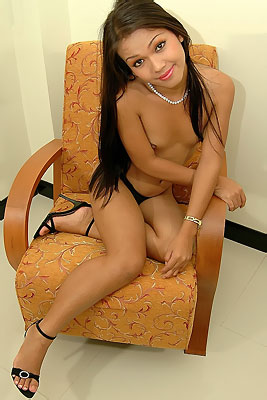 Ah, the things I could do if I walked into a room and found her in this position.  I'll give you all a couple of hints…it would involve my cock and that ass she is so sweetly tilting outward and upward.  Of course, the requisite handful or two of her long hair would come into play as well.  Yummy!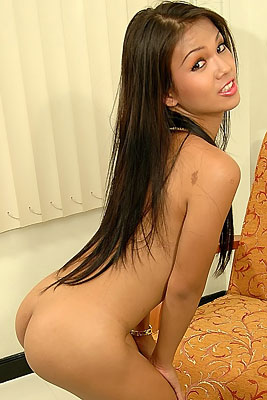 Lookee here, it seems as if Amy enjoys teasing us with her firm flesh and petite curves as much as we enjoy looking at them.  I'd say that boner of hers is ample evidence that Amy is a ladyboy who truly enjoys her sexuality, and sharing it with lucky us.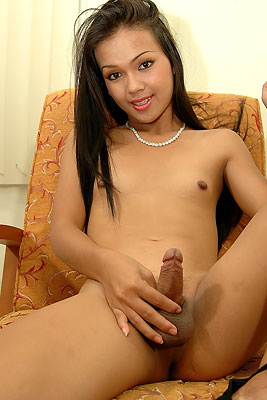 Until next time, tranny aficionados!