Hola tranny lovers!
I'm pressed for time today, but I wanted to get up the last installment of Ladyboy Amy for your viewing pleasure. Well, more accurately, the last one for now, as I know I'll not be able to resist her charms for long.  As you can see, I put in a star rating system, so be sure to give good marks to the stuff that you like so I can see that you get more of it.
And without further ado, let the Amy adoration begin.  She's looking rather lovely in her pink lingerie, don't you think?  The hint of brown nipple underneath that lace is about more than I can take.  I'd like to lightly grind that in between my molars while I suckled on her tranny titties.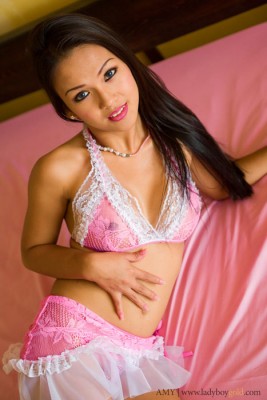 This pose…well, I don't know where to start.  I need to get some boner icons made, so I can post them next to things I think are particularly stiffy inducing.  Let's just say that I am in favor of everything, from the way she looks like she's poised to take a face load all the way down to her ankle bracelet and cute feet.  This shots a winner.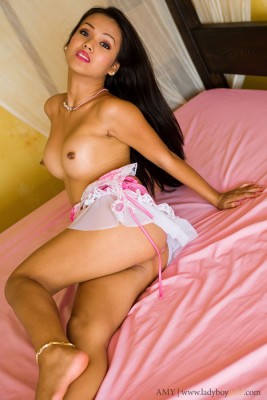 Would you like to tap her ass?  I would, and in a most savage manner.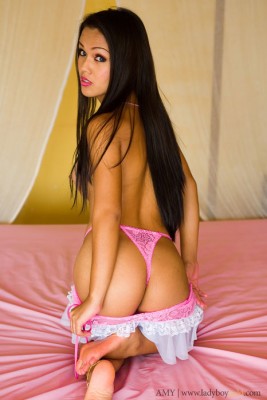 And there you have it.  It simply does not get much better than this.  No wonder you all voted her in as your favorite last month.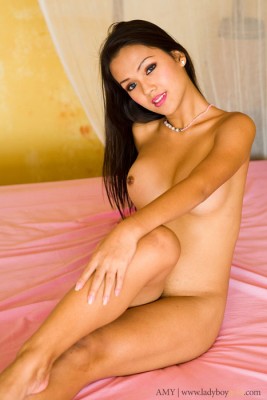 You all can sign in to Ladyboy Gold to see the rest of Amy both in and out of lingerie.
Next update we'll take a break from ladyboy lusciousness and take a walk on the hardcore side of things.
Until then, and get your nominations in for Miss Stunning Shemale of February!