I'm sure that somewhere, someone doubted my word when I said that I'd be back today with shots of Kimber James as a brunette. Well, I'm not here for long today, but for ye of little faith, I do have some smokin' hot pics of her to share.
I'm not sure which hair color I like better. If you have a preference, vote in the poll, or add your own options. I almost think the dark hair is better, but then again, that could be because it's what I am looking at right now. Actually , Kimber's tits are what I am looking at right now, but you get the general drift.
I'm thinking that perhaps the brown looks a tad more natural. Thoughts?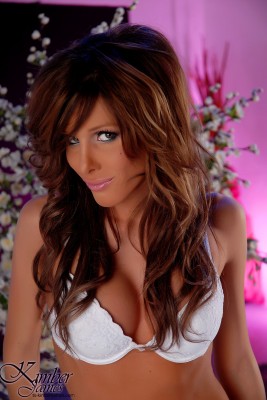 You know, we've looked at an ass load of shemales in our time together, and I think she may well be one of the most passable ever. It is just hard to fathom that this is a biological man. Talk about the best of both worlds, Kimber illustrates that point beautifully. That is my sensitive way of saying that I really want to bone her. 😉
Here at the tits I was distracted by. Can you blame me?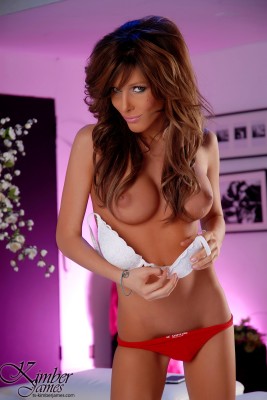 That's all I've got time for today, so until next time, tranny lovers!