Hola tranny lovers! 🙂
As you can tell, I'm changing things around here. I hadn't updated the theme of the blog since it started back in 2005. That meant that I could not do some of the things that I wanted to, just because of incompatibility. So stay tuned, because I'll be rolling out some new stuff over the course of the summer. If any of you have ideas, or things that you'd like to see the site have, leave a comment, and let me know. I can tell you that the next 'big' thing that I'll be adding is a forum. Figuring that out is next after I figure out why the star rating system doesn't work anymore.
But in our latest mini-poll, you have indicated that you'd like me to keep serving up some shemales while I work on the site. Because you fuckers are so good to me, I'll be doing just that. I think we have 4 new ladyboys to introduce, and we'll be doing that over the course of the next couple of days. Then we'll roll on to worship some other shemales for awhile. I think I'll put a new poll up to see what the general interest is, so be sure to vote.
Okay, enough of that, onward to Noy. Making good use of the teenage shemale bait that they must have in plentiful supply, the good folk at Ladyboy Gold have another winner in Noy. Can you imagine how tough it is for these fuckers to go to work everyday? "Mmmm, let's see, shall we call up a tranny teenie and have her jack off for us, or do we want to see a she-babe in her mid-twenties ram a glass dildo up her ass?"
I dunno about you, but that makes my job seem even worse than it did before.
This is the official bio of Noy:
If you like barely legal chocolate Ladyboy teens you've found HEAVEN with Noy. With braces, no tattoos and 100% natural petite body, Noy is transitioning from cute femboy to a delicious girl. Noy's asshole is TIGHT and she loves having sex as often as she can to train it. Noy's still a little shy, but that doesn't stop her from having hardcore sex and spreading her butthole wide for sperm. Ladyboy Gold is the ONLY website to have precious Ladyboy Noy.
I don't know why dumbass me did not include this in the rest of the new ladyboy posts, but I didn't. I probably won't backtrack and do it, but if you want the info, the stats for each shemale honey are on the tour. As always, the contact information is only shown in the member's area.
Noy:
Age: 18
Height: 5'5″ (166cm)
Weight: 101lbs (46kg)
Measurements:32A-24-32
Eye Color: Brown
Email: MEMBERS ONLY!
Sounds like she is a tiny, delicious little thing, doesn't it. Looks like it too. 😉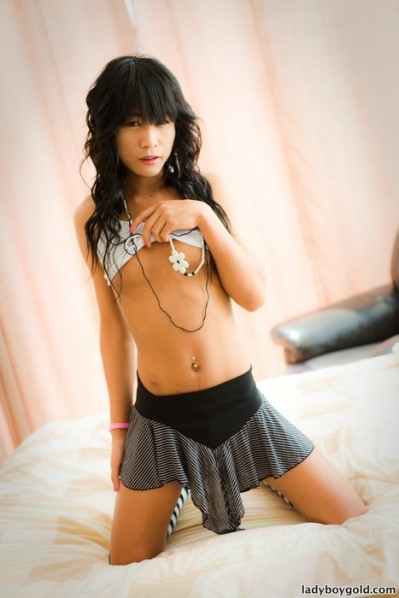 I like her hair.  It looks sort of emo-ish, and I have serious wood for that look.  Note to self:  I need to track us down some goth/alt shemale babes.  But for now, I will be very content to just stroke along with Noy as she milks her she-cock.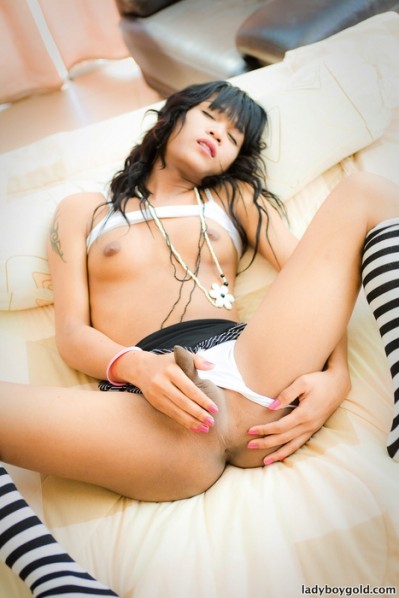 This is a nice shot.  It made my asshole pucker up to think of dragging my cockhead against the pebbbly texture of her dark nipples, smearing them with pre-cum.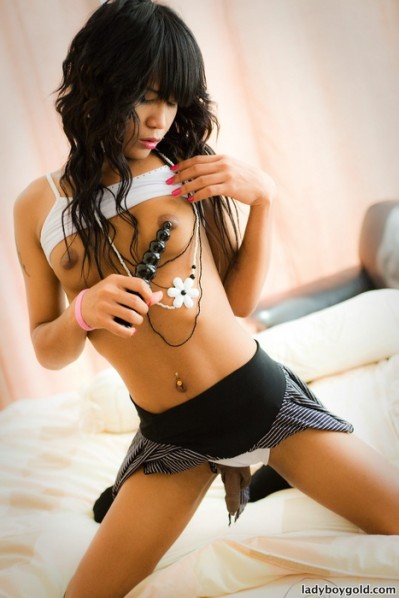 The sadist in me wants to be able to reach into this picture, place the heel of my palm against the base of this dildo, and just PUSH it in.  I'd love to see Noy's eyes fly open in shock and pain, and hear her cry out.  Then I'd smile as I pumped her ass, and heard her whimpers turn to moans as the ass invasion turned into pleasure.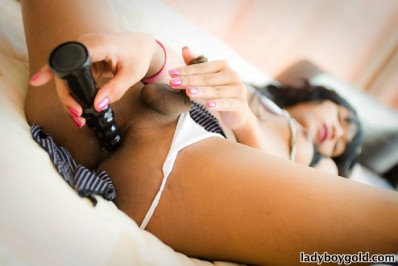 Until next time, shemale aficiandos!