Hola tranny lovers!
We are very near the end of the new she-babes from Ladyboy Gold. From what I've been told, they have about a year's worth of updates of what I call Ladyboy Gold Round #3 of Shemale Stunners. So if you've got a particular yen for one of the tranny lovelies, you should be able to get your appetite for her satisfied.
Today we are going to turn our lustful gaze to Yoyo. Yoyo is yet another shemale teenager, so if you like 'em young…and who doesn't…Yoyo will be right up your alley.
Here's her official bio:
Coming straight from the Asian Shemale heavens, the sexual gifts that YoYo brings will have you cum again and again. Slender long legs that lead up to tiny buns and a big swinging cock! YoYo also posses a perfect C cup tits and receptive asshole capable of taking large dildos or any cock inside with
ease. Be amazed and ready to cum when this angelic faced Kathoey licks ass, sucks cock and fucks in fantasy outfits and lingerie.
They had me at taking cocks with ease. 😉
Let's take a looksee at YoYo, shall we?  It might just be me, but I think she sort of looks like Ladyboy Moo.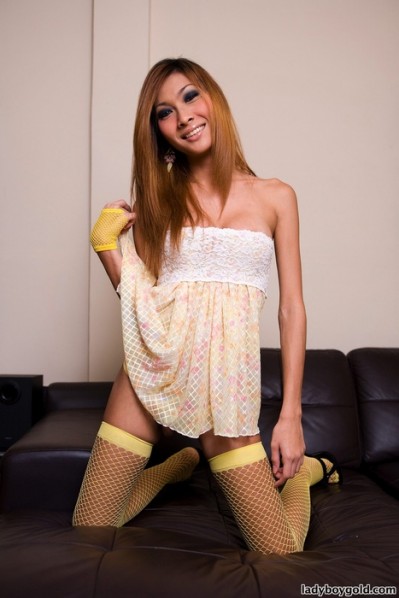 Yoyo's got nice titties too.  And she is clean shaven.  Which means she is racking up gold stars in my book.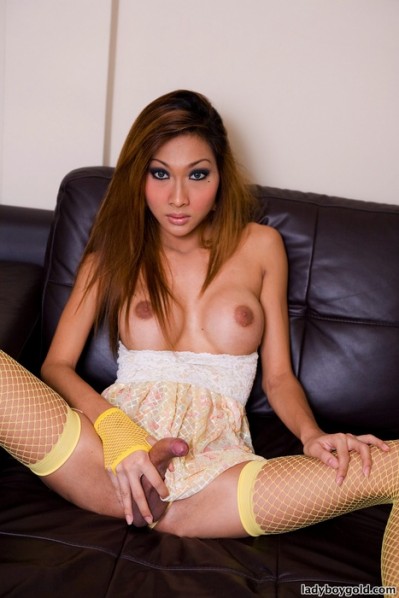 And look here.  Looks like her bio was telling the truth.  While it isn't a baseball bat, YoYo is porking herself with a decent sized dildo.   And she is doing it while wearing fishnets.  As you might imagine her chart is just about to overflow with gold stars. 😉  Oh, I forgot to mention it, but she's also got a pierced tongue, in case you like to feel those running up and down your shaft.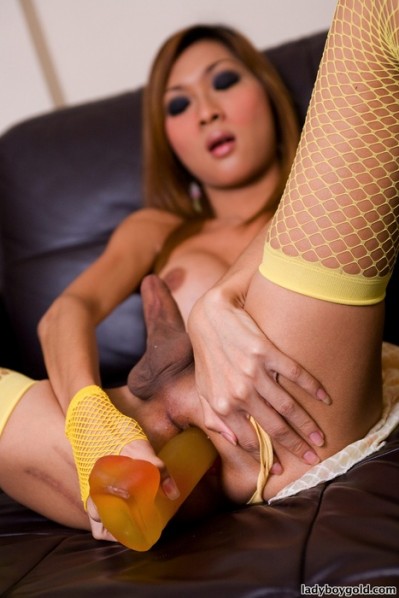 Until next time, shemale afficiandos!