Hola, tranny lovers! 🙂
I've not been feeling well the past couple of days, and I think that it's a damned shame that I did not have a nurse like Pond to take care of me.  It would have given me comfort to feel her soothing, gloved hand on my fevered brow.  If she thought , dick looked too swollen,  she could have wrapped that same hand around it and milked it dry.  If she thought I had a fever, she could've rubbed my ass down with oil, taking care to get my hole all slippery, and then eased her cock in inch-by-inch to see what my internal temperature was.
That would be the benefit of being disorganized and not having a thermometer. 😉
Pond's another newbie at Ladyboy Gold.  I think they've hit the jackpot with this last bunch.  This is what they have to say about Pond:
Passionate. Dirty. Horny. Wild. Pond is a Ladyboy lover's eternal wet dream. With a curved cock that is forever hard, Pond gives as good as she gets with reckless abandon until she spurts a GALLON of cum from her throbbing cock. Pond asshole is made for cock and when she's not smiling her mouth is wrapped around any hard cock she can find! Pond does EVERYTHING; bareback sex, deep rimming, cum swallowing, piss drinking and more. Any dirty forbidden fantasy Pond will make cum true! Pond's special talent is dumping a HUGE load of cum on her six pack stomach and scooping it into her mouth, greedily eating every bit of sperm. See beautiful Pond do it ALL.
Mmmm.  She eats her own cum.  Daddy like!
Daddy also like the sexy nurse costume, fishnets, etc.  This was one of my favorite shots out of the entire set.  She looks like a hungry little sex kitten.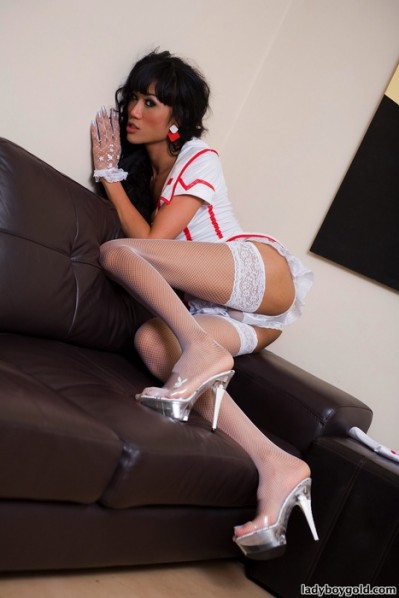 This is another good one.  I can almost feel her shemale tongue bathing the underside of my cock.   How is it that we just *know* that Pond is about to be a very naughty girl with that thermometer?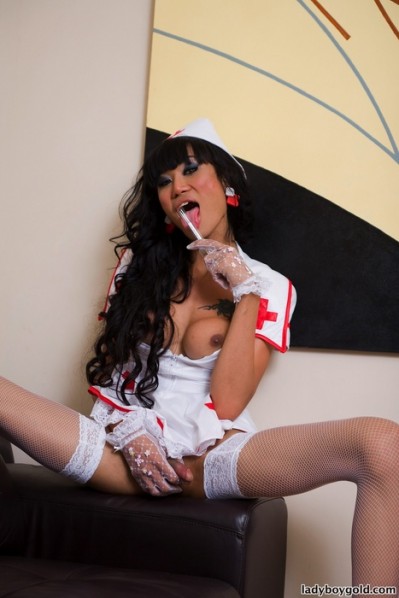 Whatta ya know?  We must be claravoyiant or something.  Sure enough, there goes that thermometer disappearing into our hot nurse's ass.  Pond has healing properties.  After looking at that shot, I think I must be feeling better.  I feel the blood flowing through all my body parts. 😉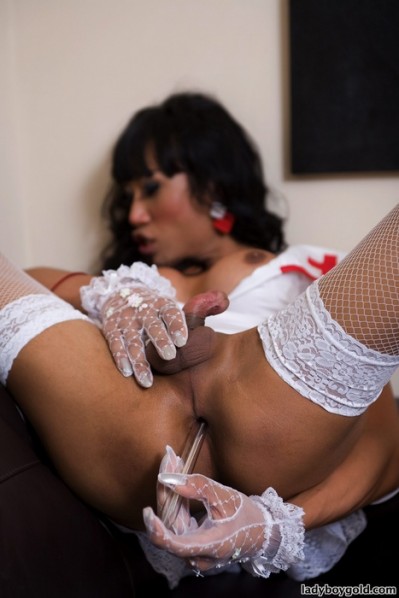 Until next time, shemale afficandos!