Hola, tranny lovers! I intended to get a post or two in between last one and this one, but I had a minor life crises. So you all were stuck looking at the two featured shemale beauties. I'm sure that was not much of a hardship now, was it? 😉
Duda Little was our first winner. After a strong early lead, she narrowly edged out Ladyboy Christina. Congrats Duda!
Let's get right to it, shall we? First contestant…and I'm doing these alphabetically, if anyone cares…is brought to us courtesy of Ladyboy Gold. Please welcome the ever-delectable Ladyboy Lee. Lee is a teenage ladyboy who has that barely legal look going on that so stiffens my rod. Something about her makes me want to tie her up and use one of those suction devices on her titties. And I love how her tight little ass is perched just ready to get stuffed full with that butt plug. Delicious!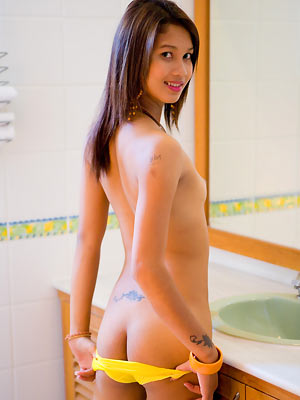 See more of Ladyboy Lee at Ladyboy Gold.
Going head to head with Lee is…wait…stop the presses. Let me just savor the notion of these two tranny hotties going at it, rubbing the dicks of their heads together. Have mercy!
~wipes brow~ Whew! Pardon me.
Okay, as I was saying, challenging Lee is the incomparable Victoria Holyns. Just take one look at her plump lips, and imagine them working their magic on your nutsack. Daddy like, oh yes, he does!
Along with pouting, kissable, biteable lips, Victoria has a bangin' hot body. Wouldn't it be fun to be in the tub with her? If I was there, there'd be something besides water sliding down her body, that is for damn sure!
See more of Victoria at her official site.
Get your votes in, and if there is someone you'd like to see face our winner in the next Stunning Shemale Showdown, leave me a comment and let me know.
Until next time, tranny lovers!