On my way out to meet an old friend for dinner, but wanted to drop in and get today's update posted for you all. I'll be watching the debates later tonight, and didn't want to leave you without any shemale sunshine for the day. 😉
This is a new-to-me site, and so far, I am really, really liking the looks of what I see. I love stuff that has good quality movies. I don't understand why they all don't. Or maybe I'm just spoiled by watching HD on the big screen, I dunno.
Anyhow, this tranny hottie is also Brazilian, so that will mean we've had back-to-back Brazilian updates. I'd like to be the meat in the middle of that particular tranny sandwich, I most certainly would.
You all know that I love fetish gear, and this tasty tranny tidbit has got that going on in spades. Boots and fishnets, anyone? Talk about some kick ass tan lines!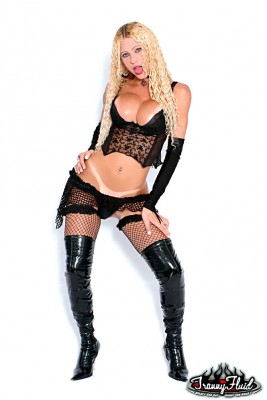 And if the front view wasn't hot enough for you, check out the rear! Baby got back, she most certainly does. Her ankles need to be linked behind my head, with those boots resting on my shoulders.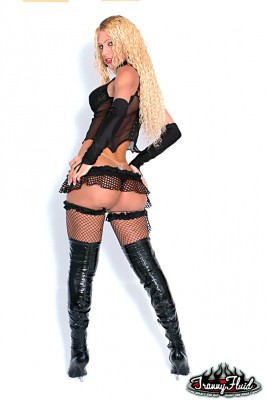 Again with the tan lines.  Yum-the-the-fuck-y.  I wish she had put a dog choker on instead of that jewlery.  It would be fun to get her to crawl for me.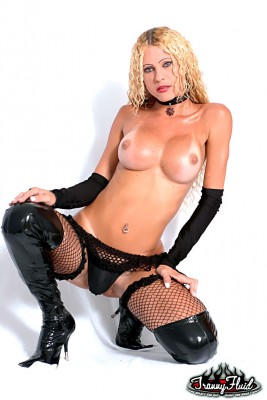 Couldn't you just take a big ol' bit out of that plump ass of hers?  I'm also digging the way the tip ends of her blond hair brush over the top of her ass.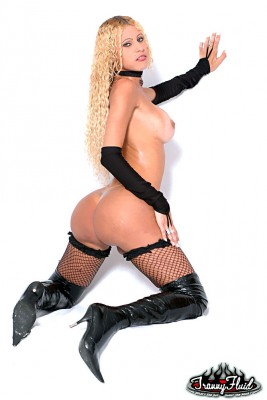 And finally she offers up a peek at her money maker.  I'd like to wrap that long hair around my fist, and ride that tranny ass.  I truly would.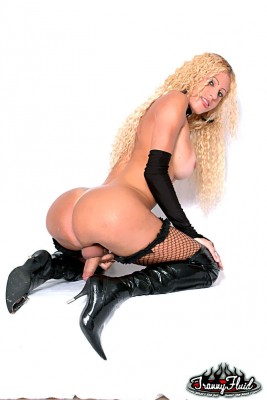 Speaking of debates, don't forget to vote for your favorite in this segment of Stunning Shemales Showdown!
Until next time, tranny lovers!