Hola, tranny lovers!  Sorry for my lengthy absence, but work travel reared it's ugly head again.  Now that I've bitch slapped it into submission for awhile, it's time for some long-overdue shemale updates.
You guys have made it loud and clear that you like hardcore shemale porn, so that is what the updates for the remainder of the year will focus on.  And to kick start that, our Stunning Shemales Showdown is going to feature two lovely tranny babes who can definitely show that they have no hormone hardon issues.  And that they know what to do with a hardon when they get one.
First up…again, going alphabetically, is a long time favorite on the blog.  Without further ado, let's take a look at the very lovely Foxy Angel.
Thought we'd spice things up a little, and try to go for fetish sets for both our contenders. We'll start off with Foxy Angel looking incredibly sexy in fishnets and boots as she dominates this male submissive.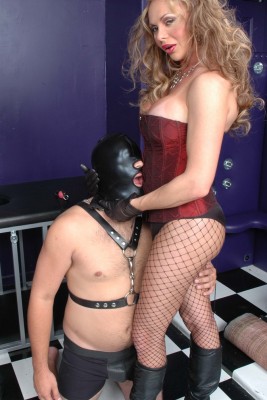 Looks like there is no doubt who is in control as Foxy dishes out some punishment to get that ass all nice and warmed up before she nails it.  She has some of the prettiest tranny titties, I think.  I like the ones that look like a biological woman's instead of the type that look like lumps of something stuffed into a man's chest.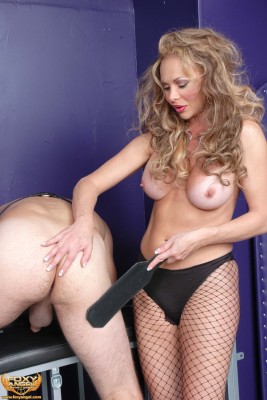 I'd say that from the look on his face that Foxy's submissive totally enjoys his task of sucking on her shemale cock.  Looks like he's found nirvana. I gotta say it again…she wears those fishnets and boots well.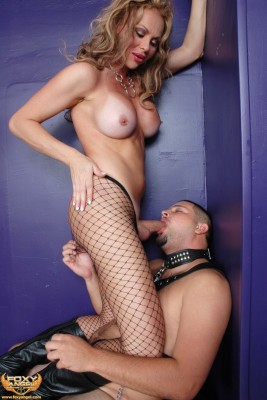 If I was him, I'd be whimpering and asking Mistress Foxy if I could please please please stroke my own dick while she impaled me with her cock.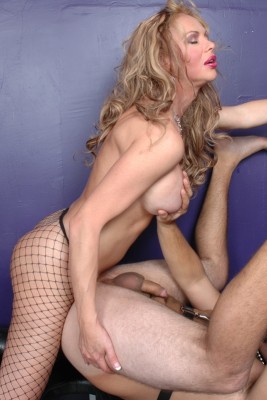 We've got a tranny beauty in the form of Kelly Shore in a latex/nurse/medical fetish scene.  She can definitely fulfill the requirements of a hot nurse fetish in that dress.  She could take my temperature any day.  Or lay her hand on my fevered brow.  Or wrap her lips around my turgid dick.  Any or all the above would do.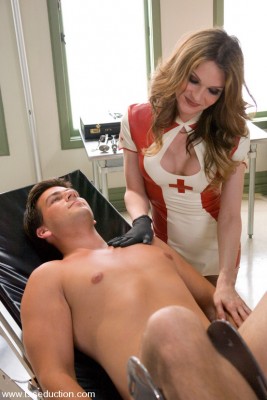 I guess that this lucky bastard is getting to live out my dreams as he opens wide for a tube steak thermometer.  By the looks of Kellys' cock, I think she can use it as a tongue depressor and touch his tonsils with it.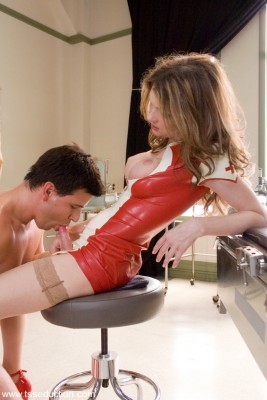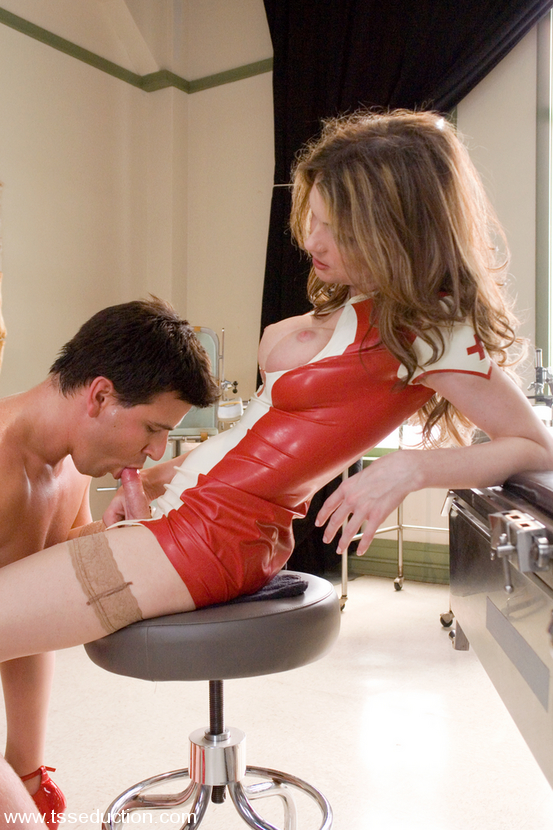 Looks like Nurse Kelly decided that she needed to take his temperature anally instead.  This is the type of medical care that I need…something through and far reaching.  Love the contrast of her stockings and cock.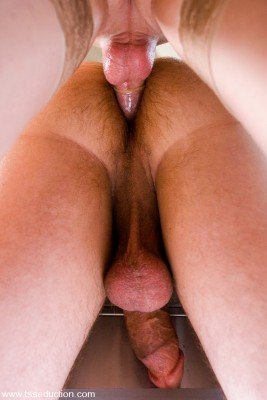 Looks like she decided that the cure for his particular aliment was a fresh, hot, creamy load of shemale cum.  I don't know where he contracted this illness, but I want to go there and get it too.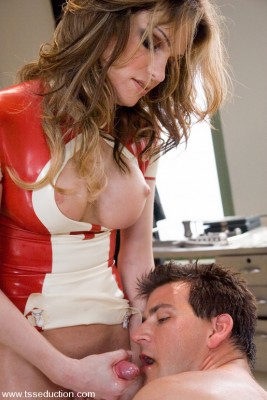 Get your vote in for your favorite, though I think this is going to be a tough choice for me.  Stay tuned for the next hardcore update.
Until then, tranny lovers!