Congrats to Miss Kelly Shore who was the winner of our last Stunning Shemale Showdown. For me, it was a total toss up, and the only correct answer was the opportunity to be the filling in a shemale sandwich comprised of Kelly and Foxy Angel.
Got a new poll running now, and this is one that you all can add options to. So get connected with your fellow tranny lovers, and let everyone know who you think we should feature as a January Stunning Shemale.
Getting late in my world, but I wanted to make up for a little lost time, and share a little of what I thought was a killer set from Tranny.com. I was cruising the site, and came across what I swear-to-God was a tranny who could have passed for an ex-fuck of mine. A female one, that is. Anyhow, after that, it was a given that I would have to check the scene out.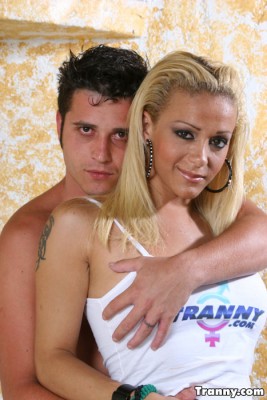 And in another twist of irony, it looks like she can slobber on a knob just as good as my ex could.  Problem with my ex was her constant nagging when her mouth wasn't full of cock, but that is another story.  I'd love to let this tranny babe swallow my flesh sword.  I most certainly, certainly would. 😉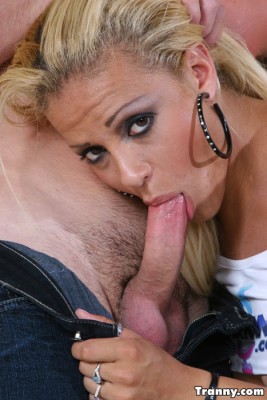 Now, here's a nice shoot for everyone who likes shemales in boots.  It's a pretty inviting angle, actually.  Makes me want to slide in between her thighs and suck on her nuts while she gets drilled out.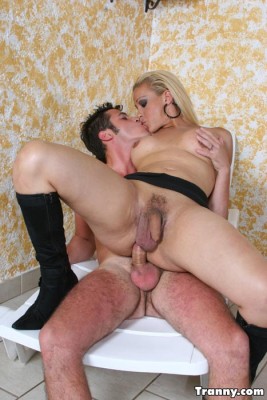 Looks like her knockers have some pliancy to them instead of those horrid stiff looking fake ones.  That is always a good thing, and you know, the more I look at this shot, I'd probably want to throat fuck her while the other dude had at her ass.  Leaving no hole untouched, and all that jazz. 😉