Hola, tranny lovers!
Time for us to take a look at Ladyboy Amy when she walks on the wild side, and for that, we need to turn our focus to Extreme Ladyboys.  I haven't seen a lot of her in hardcore action, so when I run across it, it's always a treat.  Not to mention it looks like she's a little bit of a perv, and I love that in a person.   At this site, she seems to have shot going by the name of Emma.
Seems like Amy/Emma has been reading some warped housekeeping hints column.  I've always wanted to let the vaccum cleaner suck my dick, but never quite manned up enough to do it.  I had visions of having to go to the emergency room or something.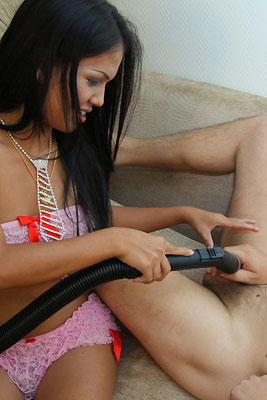 I've said it before, and I'll say it again.  I would marry this shemale babe.  All she has to do is to always look like this when she cleans house…naked except for high heels.  All she needs is a pearl necklace, and I think I could whip one up for her. 😉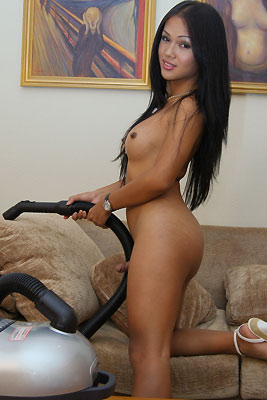 Not only is Amy an expert at keeping things tidy, it looks like she can give a good knob job as well.  She can also multitask, as evidenced by her toy fucking her own tight ladyboy shecunt while having a mouthful of cock.  Whoever this guy is, I am jealous.  On a side note, she has the cutest little feet.  I want to paint them in cum.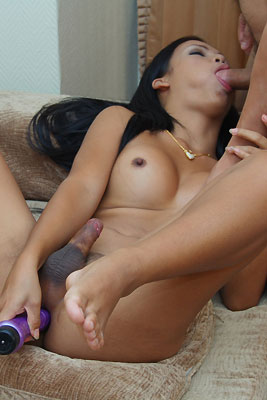 Now this is all kinds of hot, because I never really pictured Amy in a dominant role before.  I figured she would be the one taking cock up her ass.  But our little superwoman can do it all, including rolling this guy back on his ass and impaling him with her fuck stick.  Amy is needed ladyboy perfection, and after checking this scene out, I've got some business to attend to all by myself.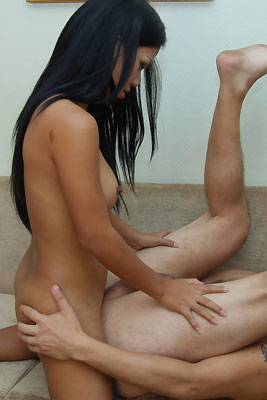 Until next time!